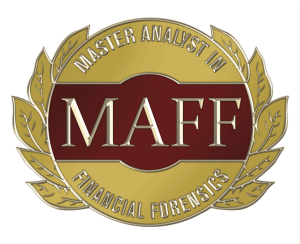 Due to increased regulation and regulatory enforcement, an increasing number of financial crimes, and a record number of bankruptcies and corporate restructurings, the demand for financial litigation and forensic accounting services is set to soar. To help CPAs and other financial service professionals obtain the necessary training, certification, and credibility so they can grow and thrive in these areas, the National Association of Certified Valuators and Analysts® (NACVA®) and the Consultants' Training Institute® (CTI®) offer specialized certification and training programs, and the Master Analyst in Financial Forensics® (MAFF®) credential.
Unlike most financial litigation training that tends to be general in scope, the Foundations of Financial Forensics Training Center provides attendees with an understanding of the professional responsibilities and legal underpinnings necessary to providing credible financial forensics services along with an overview of the highest growth areas of financial forensics practice. The nationally recognized and seasoned financial forensic experts who teach the programs also dive into the methodologies and approaches for calculating damages, financial investigative and forensic accounting techniques, skills development for communicating with judges, attorneys, and juries, and practice building strategies that are being employed by successful and emerging financial forensic analysts.
NACVA's Master Analyst in Financial Forensics (MAFF) designation is the only financial forensics credential accredited by the National Commission for Certifying Agencies® (NCCA®).
The CTI also offers practitioners several expert witness skills development workshops, including the Expert Witness Boot Camp and applicable to expert witness from all walks, as well as attorneys. The CTI also offers the Litigation Report Writing Workshop to help practitioners raise the bar and learn effective approaches to writing an expert damages report for use in a litigation matter.
Financial Litigation Training Course Information and Registration:
Credentialing Training
Financial Litigation Training